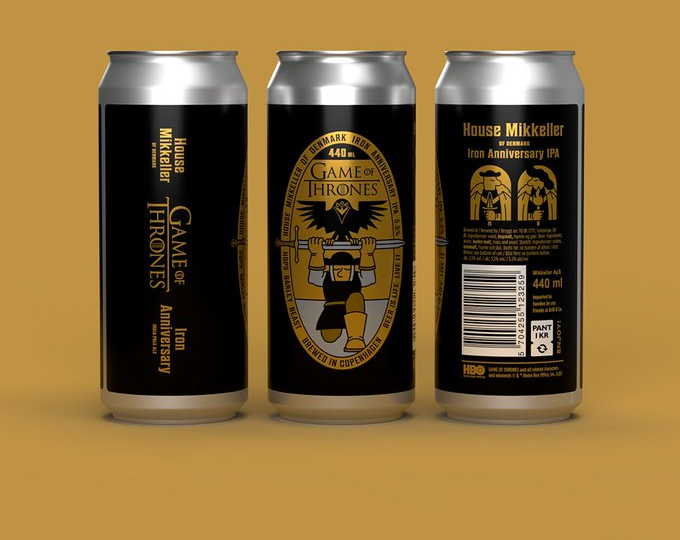 [Internacional]
Game of Thrones estreou pela primeira vez na HBO há dez anos, em 17 de abril de 2011. O programa é considerado o maior programa de TV do século 21. A série ganhou um total de 59 Primetime Emmy Awards, um recorde até hoje.
Por isso a HBO continua explorando o universo da série, com prequelas em desenvolvimento e a comemoração durante um mês de uma década da estreia da série: The Iron Anniversary, comemorado este mês.
Muitas marcas famosas estão se reunindo para tornar a festa ainda mais especial. A Warner Bros. Consumer Products e a empresa de cerveja artesanal dinamarquesa Mikkeller uniram forças para lançar uma variedade de cervejas inspiradas em Game of Thrones. A parceria já é de vários anos, mas desta vez será lançada a cerveja "Iron Anniversary IPA", sendo que a IPA é apenas a primeira de uma série de cervejas Game of Thrones da Mikkeller a ser produzida. O primeiro lançamento 'Iron Anniversary' estará disponível em quantidades limitadas e em mercados selecionados – Dinamarca, Suécia, Reino Unido e Estados Unidos – incluindo a loja virtual Mikkeller.
Futuros lançamentos da série de cervejas estarão disponíveis através da rede de distribuição global da Mikkeller, incluindo varejistas nacionais independentes e premium.
Recentemente, Funko e Fabergé lançaram mercadorias especializadas para comemorar o 10º aniversário de Game of Thrones. A Funko está se juntando à diversão com seus novos Iron Anniversary Pops e a Fabergé lançou designs para uma nova peça extraordinária de mercadoria associada a Game of Thrones, no valor de £ 1,6 milhão. O item da Fabergé é um ovo com joias baseado nos ovos de dragão de Daenerys.
Fonte: Wiki of Thrones