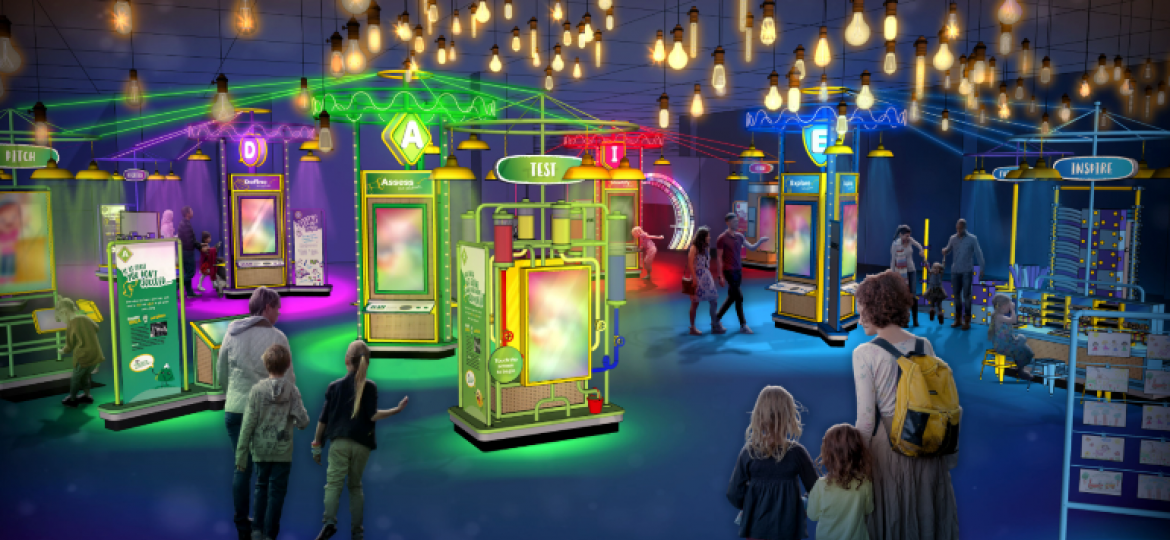 [Internacional]
"Crayola IDEAworks: The Creativity Exhibition", uma experiência imersiva e interativa, fez sua estreia mundial no The Franklin Institute, na Filadélfia, em 13 de fevereiro.
"Crayola IDEAworks visa inspirar visitantes de todas as idades a expandir suas habilidades de pensamento criativo e aprimorar seus talentos únicos por meio de uma infinidade de atividades emocionantes e imaginativas", disse Larry Dubinski, presidente e diretor executivo do The Franklin Institute. "Estamos entusiasmados em estrear esta exposição mundial e oferecer aos nossos convidados a oportunidade de experimentar o próximo nível de engenhosidade icônica da Crayola aqui mesmo no The Franklin Institute."
Produzido pela Agency808 em colaboração com a Crayola e o The Franklin Institute, a experiência de última geração com 17.000 pés quadrados é uma aventura imersiva e personalizada.
Com mais de 150 experiências e desafios físicos e digitais baseados em pesquisas, os visitantes acompanham seu progresso em uma pulseira RFID e recebem um resumo personalizado de seus pontos fortes criativos descobertos em sua jornada.
"Demorou mais de dois anos do conceito à criação e, ao longo desse tempo, expandimos os limites de todas as normas do setor com 'Crayola IDEAworks: The Creativity Exhibition'", disse Clayton Ferguson, produtor principal e executivo da Agency808. "As experiências em 'Crayola IDEAworks' desafiarão a imaginação, engenhosidade e habilidades de pensamento crítico de cada convidado de uma forma que nunca aconteceu em uma exposição de museu antes. Este é um evento verdadeiramente único que pessoas de toda a região não vão querer perder."
A exposição estará disponível no The Franklin Institute até 18 de julho, antes de embarcar em sua excursão inaugural por várias cidades.
Fonte: License Global