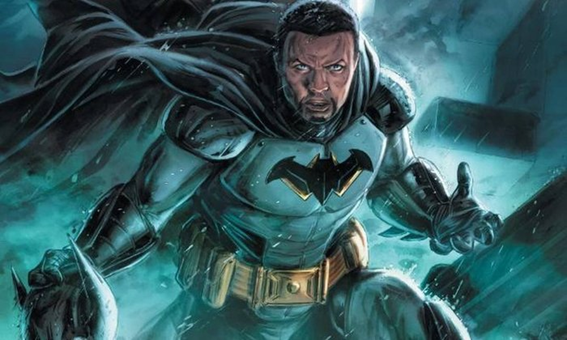 Reprodução / Twitter DC ComicsIdentidade do novo batman foi revelada na capa da 
revista Future State: The Next Batman 2Reprodução / Twitter DC Comics
A DC Comics confirmou a identidade do novo Batman no mundo dos quadrinhos, com a divulgação, na última quinta-feira (10), da capa da revista revista Future State: The Next Batman 2, nova série da franquia nos quadrinhos. A partir de janeiro de 2021, o personagem da saga, batizado de Tim "Jace" Fox, será negro. A informação já vinha sendo especulada pelos fãs do Universo DC.
A saga é escrita por John Ridley, roteirista vencedor do Oscar de melhor filme e melhor roteiro adaptado — entre outras categorias — pelo longa  12 Anos de Escravidão. No enredo, Tim Fox é filho distante de Lucius Fox, ex-gerente de negócios de Bruce Wayne apresentado ao público nos quadrinhos de 1979. A história se passa em uma versão futurística de Gotham City, controlada por uma agência de tecnologia chamada Magistrado.
Na Gotham do futuro, o Batman original (Wayne) está morto e todos os vigilantes são considerados criminosos — até que um novo homem morcego surge para salvar a cidade: Tim Fox, o Batman negro. Em entrevista ao The New York Times, o roteirista John Ridley comemorou a introdução do personagem à saga, destacando que seu trabalho agora poderá ser melhor apreciado pelos filhos.
Fonte: https://gauchazh.clicrbs.com.br/cultura-e-lazer/livros/noticia/2020/12/dc-comics-anuncia-que-proximo-batman-dos-quadrinhos-sera-negro-ckingf01i001n019wvppe58wf.html