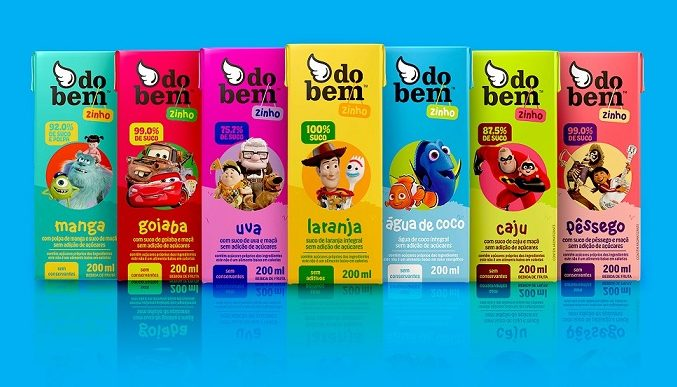 A Do Bem, empresa da Ambev de bebidas integrais e naturais, lança caixinhas de suco da linha infantil "do bemzinho" ilustradas com os personagens dos filmes de animação da Pixar. Os desenhos estão presente em sete sabores: caju (Os Incríveis), goiaba (Carros), laranja (Toy Story), uva (Up – Altas Aventuras), água de coco (Procurando Nemo), manga (Monstros S.A.) e pêssego (Viva – A Vida é uma Festa).
"Através das histórias, os nossos personagens conectam gerações e encantam pessoas de todas as idades. A nova campanha de do bemzinho com a Pixar reforça a nossa missão de levar a magia para todas as famílias brasileiras e incentivando um estilo de vida mais saudável", comenta Richard Leon, vice presidente de Consumer Products Games and Publishing da The Walt Disney Company Brasil.
"No ano passado vimos o interesse cada vez maior em nossos personagens mirins. Então, nada mais interessante do que ampliarmos essa ideia com a parceria de um dos maiores estúdios de animação do mundo, e a campanha vai nos ajudar a instigar a curiosidade dos consumidores com as narrativas dentro e fora da caixinha", diz Natalia Feres, brand manager da do bem.
Fonte: Embalagem Marca