Coleção celebra "espírito aventureiro"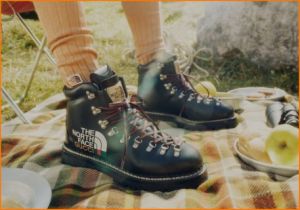 A nova coleção composta por roupas, calçados e malas está alinhada o compromisso que a Gucci e a The North Face assumiram com as atividades ecossustentáveis, relatou a Fashion United. Nas peças são usados materiais recicláveis.
Os destaques da linha incluem casacos acolchoados de pena de ganso, colete, além de camisas, saias, vestidos e macacões, com designs inspirados nos estilos originais da North Face dos anos 1970.
As malas vêm em oito novos padrões gráficos que foram projetados em colaboração entre as duas marcas. Cada padrão apresenta cores brilhantes e uma variedade de motivos da assinatura Gucci ou diferentes versões de um novo logotipo combinado (as três linhas da North Face e as listras verdes e vermelhas da Gucci). A colaboração também inclui uma bota unissex para caminhada (foto) .
A linha foi lançada hoje (4 de janeiro) na Selfridges Londres, seguida pelas lojas Gucci em Berlim, Paris, Milão e Londres a partir de 9 de janeiro. A partir de 22 de janeiro, os produtos serão disponibilizados nas lojas on-line da Gucci e The North Face.
Fonte: https://www.licensingsource.net/
Mais notícias do setor aqui!