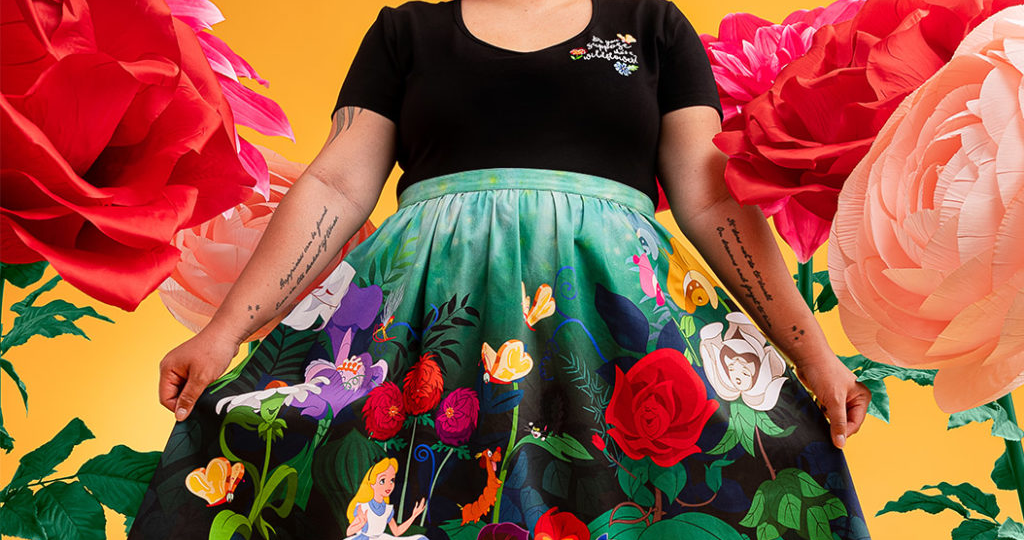 A coleção Stitch Shoppe da Loungefly agora conta com Alice no País das Maravilhas!
A Loungefly é conhecida por oferecer acessórios de moda inspirados em todas as coisas do fandom, e talvez seja mais conhecida por suas icônicas mini mochilas. No entanto, não podemos esquecer as ofertas de roupas da Loungefly, que estão disponíveis em sua marca Stitch Shoppe! Todas as roupas da Stitch Shoppe by Loungefly apresentam tamanhos inclusivos e silhuetas lisonjeiras para todos os tipos de corpo. Além disso, cada peça vem com um broche!
A Stitch Shoppe da Loungefly está lançando uma nova adição à sua linha da Disney! O clássico psicodélico favorito de todos, Alice no País das Maravilhas, inspirou um top, uma saia e uma bolsa para comemorar o 70º aniversário do filme.
As roupas estão disponíveis nos tamanhos XS-4XL. A saia estampada de Alice no País das Maravilhas (US $ 80) captura a cena das flores cantando do filme, com Alice sentada entre as flores coloridas e vibrantes – você quase pode ouvir "All in the Golden Afternoon" só de olhar!
A parte superior é uma camiseta preta justa (US $ 30) com uma pequena frase bordada da cena: "Você acha que ela é uma flor selvagem?" Há flores coloridas e uma borboleta costurada ao redor da fonte cursiva. É um top de verão fofo que combina com quase tudo em seu guarda-roupa.
Porém, a verdadeira beleza dessa coleção é a bolsa, que custa $ 85. Seguindo o tema The Flowers, a bolsa crossbody foi desenhada para se parecer com o maestro vermelho e combina perfeitamente com o resto da coleção.
O broche incluído em qualquer compra desta coleção é um dos cartões reais da Rainha – aqueles encarregados de pintar suas rosas brancas de vermelho. O cartão tem um pincel nas mãos, com lindas rosas espalhadas pelo corpo.
As três peças estão à venda no site da Stitch Shoppe.