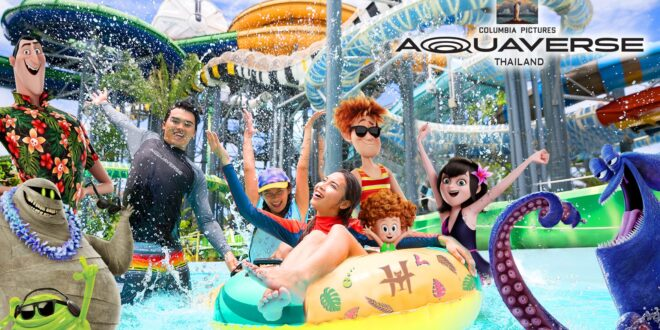 [Internacional]
Men in Black, Ghostbusters, Jumanji e Cloudy with a Chance of Meatballs terão seus próprios passeios emocionantes graças a uma nova parceria entre a Sony Pictures Entertainment e a Amazon Falls para abrir o primeiro parque aquático e temático da Colombia Pictures do mundo.
O local de 14 acres será definido na cidade litorânea de Bangsaray, localizada a 90 minutos de Bangkok e será um 'parque aquático e destino de entretenimento exclusivo na Tailândia', que apresentará passeios e atrações temáticas com base em alguns dos maiores filmes de Hollywood.
Chamado de Colombia Pictures Aquaverse, o parque abrigará atrações baseadas em Ghostbusters, Jumanji, Bad Boys, Men in Black e Hotel Transylvania.
Atendendo a visitantes de todas as idades, o parque abrangerá oito zonas altamente temáticas e imersivas com uma variedade de atrações aquáticas e terrestres, bem como um programa de shows ao vivo, entretenimento envolvente, adereços interativos, cenários exclusivos, restaurantes temáticos, bem como mercadorias especiais e locais de varejo.
Com abertura este ano, atrações como Ghostbusters Supernatural Experience e Men in Black Thrill Rides incluirão passeios de montanha-russa e domos de água de arrepiar os cabelos, enquanto o Bad Boys Raceway será uma nova pista de kart ao ar livre com tema neon de Miami.
"Estamos muito satisfeitos por nos associarmos a Liakat Dhanji e Amazon Falls no lançamento do primeiro parque temático e aquático da Sony Pictures e fomos inspirados por sua visão de criar um destino de entretenimento envolvente para a Tailândia. Columbia Pictures Aquaverse é o próximo passo na estratégia global da Sony Pictures para crescer e expandir o entretenimento baseado em localização, utilizando suas fortes marcas globais de cinema e TV", disse Jeffrey Godsick, EVP de parcerias globais e gerenciamento de marca e chefe de localização entretenimento na Sony Pictures Entertainment.
"Estamos criando oportunidades para que todos os públicos ao redor do mundo mergulhem mais fundo em nossas histórias por meio de parques aquáticos, exposições turísticas e atrações de parques temáticos."
Liakat Dhanji, CEO e presidente da Amazon Falls Co. Ltd., proprietários e operadores da Aquaverse da Columbia Pictures, acrescentou: "Sony Pictures Entertainment e a amplitude de conteúdo global, tecnologia e liderança de talentos da Columbia Pictures serão inestimáveis na criação de um ambiente totalmente imersivo, experiência que trará curiosidade e admiração a um público global. O lançamento do Aquaverse representa um primeiro passo no que imaginamos ser uma colaboração mais ampla que será pioneira no futuro de um destino de entretenimento integrado como parte da cidade inteligente do EEC.
"Ao lado de nossos passeios e atrações exclusivas, esperamos estabelecer novas parcerias com as melhores acomodações, tecnologia, varejo e parceiros de F&B enquanto organizamos uma experiência de estilo de vida incomparável que irá ressoar com todos os nossos visitantes."
Fonte: Licensing Biz