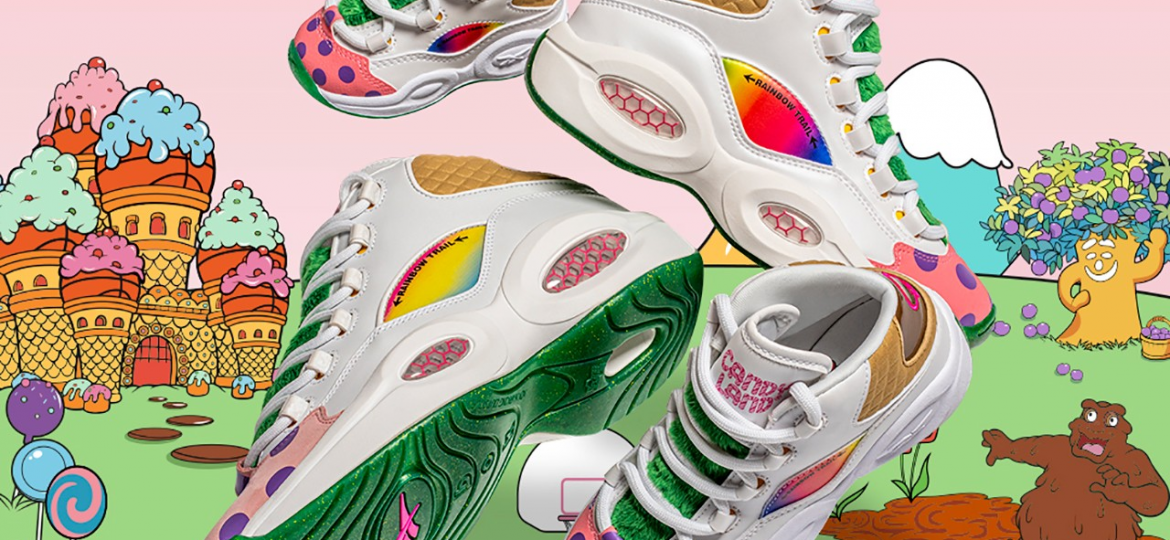 [Internacional]
Candy Land da Hasbro é um jogo de tabuleiro popular desde sua estreia em 1949, e agora suas sensibilidades açucaradas estão sendo chamadas para equipar uma coleção de clássicos da Reebok. Esta coleção colaborativa é revelada nos saltos de Brain Dead, revelando sua coleção Zig Kinetica II inspirada no brinquedo japonês Sofubi Kaiju.
Os principais calçados da cápsula se enquadram na categoria de basquete retrô, já que Question Mid "Sweet Moves" e Kamikaze II "Bring the Sweet" são implementados. Os chutes de Allen Iverson são reinventados com padrões de pontos roxos para chamar os "pontos de pontos" do tabuleiro, enquanto a língua é preparada com um material gramado que canaliza a cor de fundo do tabuleiro. Além disso, as partes superiores também exibem janelas inspiradas no Rainbow Trail, plantadas no meio do pé. O par Kamikaze II aumenta ainda mais a diversão, pois sua base de couro envernizado combina tons vívidos que simbolizam o tortuoso Caminho do Arco-Íris de Candy Land. Setas de estrelas também são impressas no interior das línguas para ecoar ainda mais seu motivo.
Opções para as crianças também estão incorporadas a esta nova coleção, como o Couro Clássico "Where Kandy Rules" e o Clube C 85 "Make The Journey", o primeiro dos quais representa a caminhada colorida para o Castelo do Rei Kandy, enquanto o último presta homenagem a o Caminho do Arco-Íris do jogo.
A coleção Reebok x Candy Land será lançada globalmente em 21 de abril na Reebok.

Fonte: Hypebeast