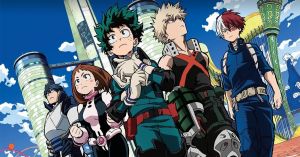 O mais novo canal da TV brasileira voltado à cultura pop/geek, Loading, lançado em dezembro de 2020, tem previsão de lançar, em breve, um novo anime My Hero Academia é uma produção japonesa de 2016 baseada em uma série de mangá escrita e ilustrada por Kōhei Horikoshi.
O garoto que sonha em ser um herói, Izuku Midoriya, é o protagonista da animação. Izuku vive num mundo onde todos possuem algum tipo de poder, menos ele, por isso, inicia um treinamento no Colégio U.A., e vai enfrentar uma organização criminosa chamada de Liga dos Vilões.
O canal informou que o anime fará parte do Mais Geek, que é exibido diariamente entre 18h30 e 20h. Atualmente, o programa veicula os animes The Lost Canvas e Free!
Especula-se que My Hero Academia entrará na vaga de The Lost Canvas, que já está chegando ao final. O anime que se passa no universo de Os Cavaleiros do Zodíaco tem apenas 26 episódios e deve permanecer no ar até o dia 13 de janeiro. Na sequência, My Hero Academia deverá começar a ser exibido.
A principal atração da programação do Loading são os animes. O canal exibe atualmente sete produções diariamente, nas faixas Mega Crush, Mais Geek, Funimation TV e Madrugada Crunchyroll. Há ainda um oitavo título, exibido nos domingos pela manhã.
Mais notícias do setor aqui!