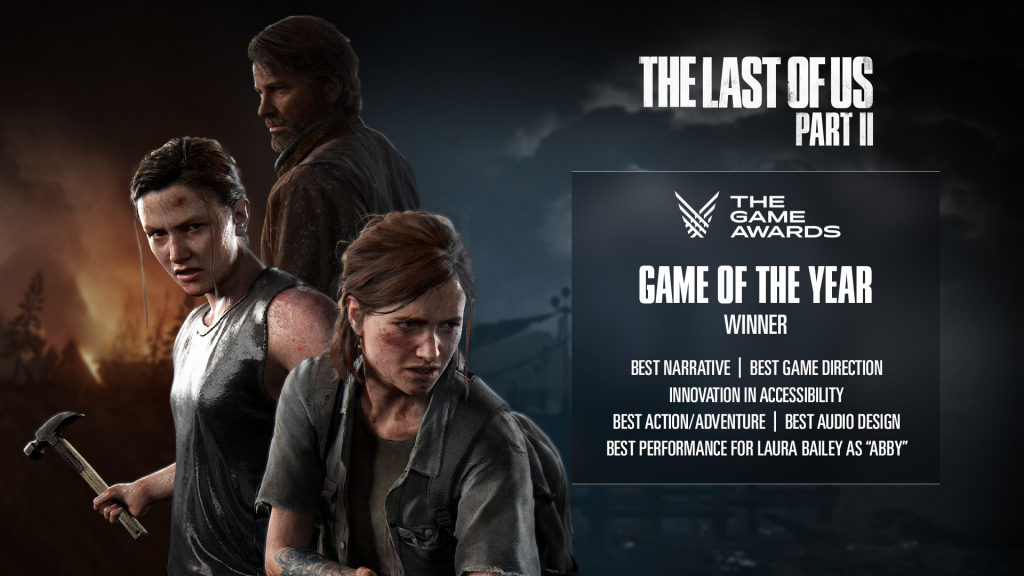 The Last of Us Part II foi aclamado como Jogo do Ano (Game of the Year) na cerimônia online do The Game Awards 2020, realizada nesta quarta-feira (10). Ao todo, a sequência do jogo exclusivo de PlayStation foi vencedora em 7 das 10 indicações na premiação que é considerada "Oscar dos videogames". Além do prêmio máximo da noite, também levou pra casa os títulos de Melhor Ação Aventura, Melhor Direção de Jogo, Melhor Narrativa, Melhor Design de Áudio, Inovação em Acessibilidade e Melhor Desempenho para a atriz Laura Bailey como Abby.
Durante a cerimônia, o músico Eddie Vedder, do Pearl Jam, fez um número musical especial tocando a canção "Future Days", do álbum Lightning Bolt de 2013. A música voltou a ganhar proeminência neste ano graças ao seu papel em The Last of Us Part II, ao ser entoada no início da narrativa por Joel para Ellie, protagonistas da série. Na categoria Melhor Jogo do Ano estavam concorrendo:
"Animal Crossing: New Horizons"
"Doom Eternal"
"Final Fantasy VII Remake"
"Ghost of Tsushima"
"Hades"
"The Last of Us Part II
Assista ao momento da premiação:
Veja a lista completa dos vencedores de todas as categorias aqui.
A franquia The Last of Us será adaptada para série de TV, numa coprodução entre a HBO e Sony Pictures Television, em parceria com a PlayStation Productions, Word Games, e a desenvolvedora Naughty Dog. Roteiro e produção executiva da série será de Craig Mazin, responsável por Chernobyl, e de Neil Druckmann, criador e roteirista dos jogos da franquia The Last of Us.