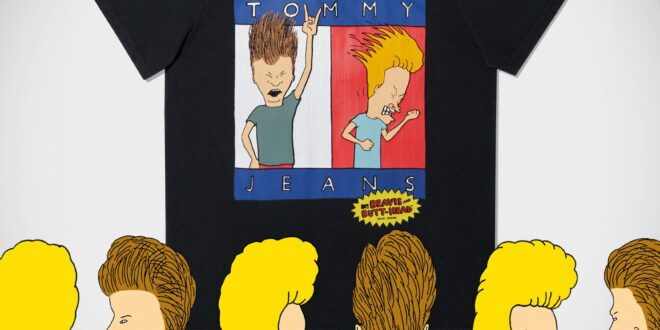 [Internacional]
A marca Tommy Hilfiger fez parceria com a ViacomCBS Consumer Products para lançar uma nova coleção cápsula sob o banner A Blast from the Past, explorando a longa história de colaborações da cultura pop da Tommy Jeans com personagens e logotipos da Nickelodeon e MTV.
Em um negócio intermediado pela WildBrain CPLG, a parceria testemunhará o lançamento de uma variedade de camisetas, moletons, suéteres, todos em um estilo unissex. A coleção estará disponível nas lojas Tommy Hilfiger, em tommy.com e em parceiros de atacado em todo o mundo.
A Blast from the Past apresentará uma gama de microcápsulas que trazem uma vibe lúdica de streetwear às cores clássicas grandes e arrojadas que os fãs de Tommy Jeans reconhecem da marca, fundidas com ícones da cultura pop do final dos anos 90 e início dos anos 2000.
Beavis e Butthead, Garfield, MTV, Ren & Stimpy e SpongeBob SquarePants vão todos desempenhar os papéis principais na coleção.
Cada microcápsula remixa a bandeira herdada da Tommy Jeans de maneiras únicas e surpreendentes, como tecer Beavis e Butt-Head dentro de seus blocos vermelhos e brancos ou usá-la como um padrão para preencher o logotipo da MTV, adicionando um toque novo aos favoritos atemporais.
O negócio foi intermediado pela WildBrain CPLG, uma das principais agências de licenciamento de entretenimento, esporte e marca do mundo.
"Continua a haver uma demanda significativa do consumidor, principalmente entre os jovens adultos, por colaborações de moda sofisticadas que utilizam marcas retrô e trazem consigo um senso de diversão e nostalgia", disse Matt Tobia, gerente de vendas sênior da WildBrain CPLG.
"Esta parceria entre a Tommy Jeans e a ViacomCBS Consumer Products está perfeitamente posicionada para atender a essa demanda, pois combina o portfólio impressionante de marcas icônicas de TV da ViacomCBS com a estética descontraída dos anos 90 da Tommy Jeans. Também não poderíamos pensar em um par melhor para nossa primeira parceria com a Tommy Jeans. "